Introduction
The Sioux Center is a vibrant and growing community that welcomes residents throughout their lives. One of the reasons the community is so passionate and continues to grow is that people stay in our community. Invest in it, and stay connected to the community throughout their lives. Therefore, the Sioux Center needs to offer a full range of options to people whose needs change throughout their lives. This continuum provides quality health care, independent and assisted living options and nursing homes. All of us at Sioux Center Health look forward to creating new opportunities for community members to access the care and services they need right here at Sioux Center so they can continue receiving support from family, friends, and their faith community.
Project Description of Sioux Center
This campus project includes expanding the hospital and also a care center for the elderly. The hospital project consists of the expansion and renovation of its 14,582-square-foot clinic. The senior care facility includes a 17,306-square-foot assisted living extension. A Memory Care surcharge of 12,962 square feet; an addition for a 21,937-square-foot qualified retirement home. A significant kitchen remodel, and also the main road connecting all buildings at 16,881 square feet. And a Crown Point remodel and new awning consisting of an 8,016-square-foot renovate square feet. The USDA funds the project.
Also Read: What is Rehab? – Everything you need to know
Sioux Center Health for its Community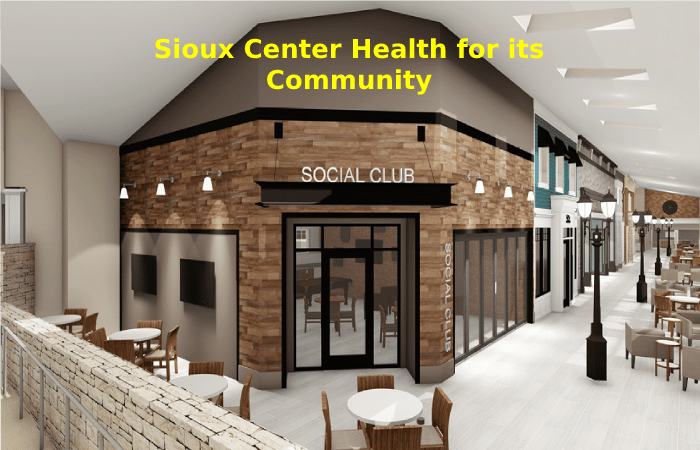 Sioux Center Health is a not-for-profit, faith-based Department of Health and state-of-the-art hospital and medical clinic dedicated to providing quality health services to families in Northwest Iowa. It offers a wide range of services in a safe and comforting environment guided by the organization's mission to bring hope, health and healing to life.
The staff at Sioux Center Health believes that caregiving is multifaceted and requires attention to physical, emotional, and spiritual well-being. Their services extend beyond nursing and medical care to other essential elements of medical care such as therapy and advice. The organization instills in its staff the notion that every patient, resident, and community member is loved, trusted, and honored.
Expansion Project Begins
In 2019, Sioux Center Health was operating at total capacity, and it became apparent that a lack of space limited the organization's ability to provide the community with needed health services. Additional clinics and expanded senior care and residential services were identified as critical elements required to truly meet the health needs of the community, particularly the aging population.
An expansion project was initiated that included two main parts. The expansion of the hospital and also clinic and the expansion of residential services for the elderly. The first was to add square footage to the existing clinic to accommodate the expanding family practice. The latter included adding square footage to the current skilled nursing and AL communities. Including a 32-unit capable nursing wing and a 40-unit AL and memory nursing (MC) addition. Additionally, the project included a new entrance for senior services and the central street concept with a café, lounge, post office, and other shops and facilities.
Foundation Director of Sioux Center
The Sioux Center Health Foundation is happy to announce that Dorinda Oostenink is the new Director of the Foundation. Dorinda was raise on a farm north of Hull, Iowa, and progressed from Boyden-Hull High School in Hull. Most recently, he worked in agricultural finance for the Cooperative Credit Company (CCC). Before that, he worked for USDA Rural Development in LeMars. His first real exposure to Sioux Center Health while working on the new hospital project from a USDA perspective.
Over time, Dorinda had the chance to serve on the board of directors of Sioux Center Health, which continued to help her see the value of healthcare in our communities. Working for both USDA and CCC, he learned the importance of relationships. Building relationships and partnerships for the future is what she most excites about her work as Foundation Director for Sioux Center Health. Dorinda looks forward to completing projects like Crown Pointe Estates and preparing for the annual Swinging Fore Scholarship Foundation golf tournament.