Introduction
Formula Wellness is a well-known saying nowadays, but it can mean something different to everyone. For example, does it mean self-care and recovery, or is it more about strength and endurance? We've created a series that analyzes the healthy habits of local influencers and entrepreneurs, empowering them to define what wellness means on an individual level.
Dr. Brian Rudman and Chrissy Rudman are the co-founders of Formula Wellness, which now has six locations in Dallas-Fort Worth. Each wellness clinic offers a wide range of treatments: weight loss assistance, nutritional planning, cosmetic treatments, hormone therapy, and more. In addition, the couple is passionate about balancing Western medicine with holistic prevention-focused practices.
What is Formula Wellness?
Formula Wellness is more than just a medical practice. It is a comprehensive program that includes: thorough on-site medical testing, customized workout, and diet solution, as well as supplements, injections, detoxifying I.V. infusions, and bioidentical hormone therapy designed to refresh and energize your body.
The Founders of Formula Wellness Share the 5 Healthy Selections they Make Each Day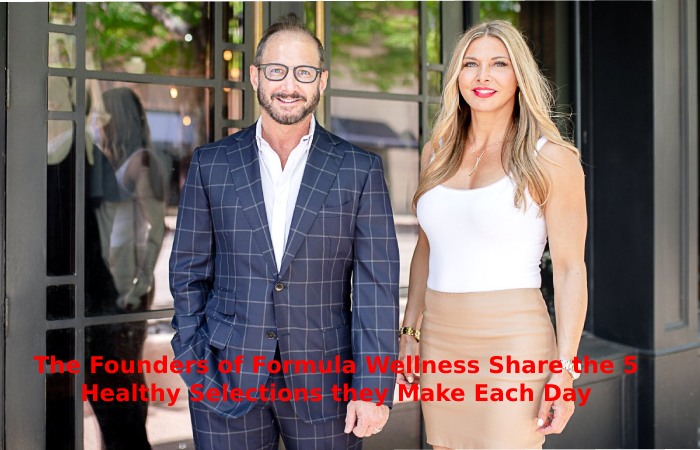 When the Rudmans aren't working with patients in their clinics, they concentrate on their wellness journeys. So we asked them to share their morning customs, their secrets to working out on a busy schedule, and their favorite ways to relax during their free time.
How to Start the Day Healthy?
Dr. Rudman: With meditation. I used to try to do it later in the day or before bed but often missed it. The first thing you commit to in a day is always done.
Chrissy: I'm a very routine person, and I always start my morning with a workout before I go to the office. It's always good to do it before my day starts. I don't have to worry about anything that might thwart my plans to get it later today. It also prepares me to make better decisions in general.
Also Read: What is Rehab? – Everything you need to know
Favorite Healthy Snack and Exercise?
Doctor Rudman: Marcona Almonds in Olive Oil. It is a source of good fats and healthy fiber with a perfect crunch. And for a workout, resistance training. You can objectively measure growth and see progress, whether it's adding more weight, more reps, or pounds on the scale.
Chrissy: My favorite snacks are Health Bomz or plain plant-based yogurts like Culina or Coconut Cult with hemp seeds, cacao nibs, and blackberries. And for exercise, I like a slightly more muscular physique. So my favorite workout is weightlifting.
How to Stay Healthy as a Couple?
Dr. Rudman: Chrissy has fabulous discipline in nutrition and exercise, so she keeps me informed of great dinner options. Also, her constant hard work in the gym pushes me to keep going and be at least as strong as her in every activity.
Chrissy: Like any strong partnership, Brian and I are good at balancing each other. When I start working too much, it forces me to relax. When he doesn't want to go to the gym, I brag about my deadlifts that week, and he's back. Joking aside, we work to strengthen everyone's weaknesses. None of us are lazy, which helps us stay active on vacation or on a random day off. We are almost always on the move.
Any Wellness Goals you've Set Together?
Dr. Rudman: We don't take short vacations. We walked, skied, and swam. Before we go on vacation, we adjust our training to maximize our fitness in the activity of our choice.
Chrissy: Like most people worldwide, we've gotten used to drinking wine every night during the pandemic. In January, we drank only when we went out, or no more than three nights a week. We also keep our food pretty clean and cook at home as much as possible. Brian cooks a little more because I'm not good at cooking. When I cook, it takes 15 minutes or less. We also limit ourselves to one flex meal (cheat meal) per week. We both avoid sugar, so it helps keep things in check and allows us to indulge in the fun stuff from time to time.
How do you End your Day Healthy?
Chrissy: Since my mornings start so early, I try to go to bed by 8 pm. every night to sleep seven to eight hours. I don't bring my cell phone to bed and try to avoid electronic devices as much as possible when getting ready for bed. It's not always easy because I go to bed when most people are having dinner.
Dr. Rudman: I read. Sometimes it's five minutes, sometimes an hour. We living in a digital world, and it's cool to turn on a T.V., listen to a podcast, or flip through Instagram. However, nothing replaces the personal growth and brain stimulation that reading gives you.
Conclusion
Formula Wellness is more than just a health office. Formula Wellness is a complete program that includes extensive on-site medical testing, personalized exercise, dietary solutions, nutritional supplements, injections, intravenous detoxification, and bioidentical hormone therapy to refresh and energize your body.
Also Read: What is Facial Cosmetic Surgery? – Treatment and More