Introduction
Men's hair salon: Are you looking for a new cut? Something daring, or maybe you've even thought about a color change highlights something dramatic. Before you run off to your usual barber or salon, you should know some reasons to hit up one of the new hair salons explicitly designed for men.
Men have often found themselves limited to a traditional barbershop or a salon primarily aimed at women. Thankfully, that is changing. Men's salons are popping up and targeting a whole salon experience designed for men. Men who have gone to a typical hair salon will often tell you that the service is leagues above the old-school fast fade cut and go places.
It's More Time-Efficient
Quick-cut barber shops traditionally run on a turn-based system. How often have you been waiting for up to an hour or more to get a basic haircut? No one has that kind of time these days. However, a hair salon specifically for men runs on an appointment basis. Most salons even book appointments online, so you don't have to make a phone call. Set up your work, show up on time, and get top-of-the-line service.
Also Read: 6 Tips to Have Smoother Skin Naturally
Hair Care Matters Especially as we Age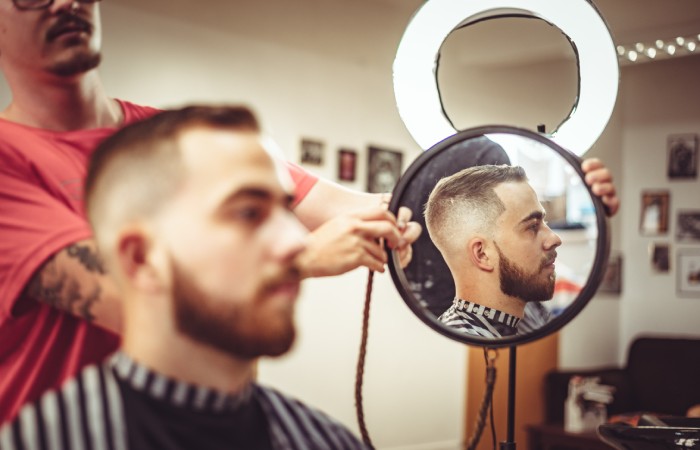 That receding hairline is something no one wants to deal with. So, get ahead of it by doing what's best for your hair before it becomes an issue. We try to say that looks aren't necessarily that important, but if you take one solid look around, you'll realize that's not true. Your hair is some of the first effects a person will notice. You're always advised to get a fresh cut before going out on a date or job interview. Your hair is one of the biggest influences on your first impression. For example, a clean-cut and tight-lined style can look more professionally oriented.
Instead of just a rush job cut like you would get at most of the old-fashioned barbershops at a hair salon catering to men, you'll find that they will talk to you about the health of your hair. They will use products designed to benefit your hair type and suggest what you can do to improve the overall health of your hair.
Unlimited Style Options
Men's hair salons can do the exact cut you've always gotten if you want. These are trained professionals, after all. But, more importantly, if you're ready to make a change, you will have a much wider variety of styles to consider by working with a hair salon.
Hairstylists are trained to help their clients find the look that suits them best. Then, they will talk you through the process of making those changes. If a style doesn't work for your hair's growth or texture, it can help keep you from making a horrible mistake.
They take into account the overall look. Because these are experienced professionals, they'll assess how that haircut might look on someone with your face shape or hair texture and tell you where you might run into trouble.
You're Gaining a World of Services
It's Becoming More Common for Men to Color their Hair
As women have for decades. The spray in a color that leaves you dripping is rapidly becoming a thing of the past. Now that you're seriously considering an updated color or hiding those new silver strands that keep catching the light, you want to head to a hair salon. We know it can be tempting to try the do-it-yourself route even with things you've never done. So leave your DIY experiments for outdoor projects and trust your hair to a professional salon instead!
Hair Dyes are Dangerous
You can destroy your hair if you don't know what you are doing. Professionals, however, know what type of developer will be need to reach your desire color and how long it is safe to leave on.
With hair color, you can entirely change your look. Bold chunky highlights for summer? Or are you can be daring and go with one of the famous bright blues you've seen while out and about lately. On the other hand, if you try to hide the gray, maybe you want to be bold and go an all-over silver? Whatever the look you are after, talk to your hairstylist and tell them what you want. If they advise against something, it's not just their taste they're talking about. It is years of experience speaking.
Not Just Haircare
Hair salons offer more services. For example, when you go to a hair salon for men, you can count on a fantastic haircut, but you can also have your hair styled. The stylist will also help you determine what products you need to get the look you are going for with your modern style. For example, some faces require things like pomade products to ensure you end up with a clean overall appearance. Of course, you can always ask the stylist what they use while styling your hair. They'll be happy to tell you and will likely even offer it for purchase right there, so no trying to find it in some beauty supply store.
Also Read: What is Rehab? – Everything you need to know
traumatic brain injury write for us
micropigmentation write for us
dentistry assistant write for us 
laparoscopic surgery write for us
Can I have PCOS but not have any Symptoms
How to Convert 27 Celsius To Fahrenheit?
Telehealth Write For Us, GUEST POST, CONTRIBUTE AND SUMBIT POST