Introduction
Types of lips: Your lips are one of the essential features of your face. Do you disagree? Although your lip type is based on your genes, you can still beautify your lips with the proper grooming, makeup, or even cosmetic and surgical procedures. Are you curious how?
Read this article to find out what kind of lips you have, how to take care of them, and how to accentuate your smile with the correct strokes and tones.
Types of Lips  how to Improve them?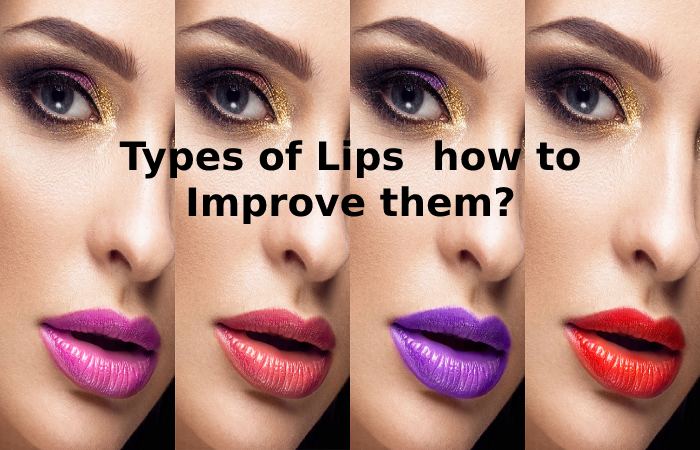 1. Heart-Shaped Lips
People with these lips have a noticeable cupid's bow, meaning their upper lip has a pronounced drop down the center. You may also have a thicker lower lip.
Makeup tips for heart-shaped lips
Apply the same lipstick to both lips and highlight the cupid's bow in the center with a white pencil.
Alternatively, you can use a creamy nude shade to make your lips look fuller.
2. Plump Lips on Top
Your pout falls into this category if you have fuller upper lips and a less pronounced cupid's bow. It is a common lip type in Indian women.
Makeup tips for full lips
You can apply lip liner around your lips by following their natural shape. You can also try using a brush to line your lips with your lipstick.
Use a darker shade of lipstick on the upper lip to make it look smaller while applying a lighter shade to the lower lip. It gives your lips an even overall appearance.
If you don't want to apply different lipstick shades, you can use a white liner in the center of your bottom lip to make it appear larger.
You can also use a pencil to lengthen the lining of your bottom lip. It makes your lips look fuller and more even.
Also Read: What is Rehab? – Everything you need to know
3. Plump Lips
These are perfectly balanced lips with proportionately full upper and lower lips. Unfortunately, those full, plump lips, where the lower lip is usually prominent, often become the girdle of your face.
Makeup tips for plump lips
Although most people find full lips extremely attractive, you might not like it when too much attention is paid to this one beauty feature on your face. So here are some tips for distracting from your perfect pout.
Try to wear nude lipsticks that blend effortlessly with your skin tone.
Wear lots of eye makeup to emphasize your eyes.
Highlighting your cheeks can attract attention and make your face look more balanced.
4. Thin Lips
If your upper and lower lips aren't that full, you probably fall into this category.
Makeup tips for thin lips
Be sure to go a little overboard when lining your lips and blending the edges along your natural lip lines for a fuller look.
Fill it in with liquid or matte lipstick to complete the look.
You can, too, try using a lighter shade on your lower lips for a more voluminous look.
Also, add lip gloss in the middle of both lips to make them fuller.
Another trick is to use a light brown kohl pencil under the bottom lip to create a soft shadow effect. It will make your lips fuller.
5. Big Lips
If you have a smile reaching your ears, you are the wide-lipped one. While your smile can lighten the hearts of many, you might want to tone it down a bit, so it doesn't overshadow the rest of your beautiful face.
Makeup tips for wide lips
Lining your lips can make them appear larger and more even. It removes its width.
Overlapping the lower lip can also add weight to the lips.
Also, experimenting with a light or nude shade can distract people from your lips.
You can also go the classic route of highlighting other facial features to divert some of the attention from your pout to the rest of your face.
6. Labia
These lips are not comprehensive but tend to be complete and prominent.
Makeup tips for thin lips
Apply lip gloss formulas to make your lips look fuller.
Dark shades can make your lips look solvent, so try to avoid them as much as possible.
Soft shades are generally good for the labia minora.
Bright and bright pink can make your lips fuller and fuller.
7. Round lips
This type of lips is noticeably round and lacks the cupid's bow.
Makeup tips for round lips
Take a liner and go slightly beyond the natural lip line at the edges while plunging in the middle. It will slightly improve the shape of your lips. Then fill it with a color of your choice.
Dark tones can accentuate your other features above your lips.
Conclusion
The liner is an essential makeup element when achieving well-defined and marked lips. It also helps to improve its shape, giving a visual effect of greater amplitude, as long as its application is appropriate and favors you.
Also Read: Skyrim: How to Cure Diseases in Skyrim?